Category

Branding, Campaigns, Web
To grow revenue, The Media Trust needed to convey their position as a market leader in the digital security space. By educating executives on the security risk of third-party code in their digital environments, the company aimed to gain clients and be seen as the ideal enterprise solution for modern-day digital security threats. NetStrategies crafted a program which included brand messaging, content development, campaign planning, and campaign execution.  We utilized tactics such as automated email campaigns, LinkedIn Sponsored Content Ads, and Google Adwords to reach well-defined audiences representing The Media Trust's ideal client. 
Through our program, we have achieved results such as: 
Reached over 1,055 CXO, VP and Director-level decision makers. 
Drove high-level engagement at over two dozen key accounts. 
Achieved LinkedIn click-through-rates 38% higher than typical LinkedIn campaign benchmarks. 
CAMPAIGN SPOTLIGHT: HELPING PUBLISHERS ADDRESS MISLEADING ADS IN THE WAKE OF CORONAVIRUS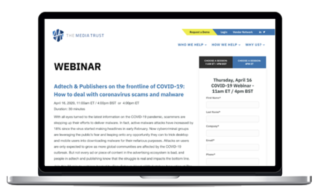 The Media Trust's proprietary digital security technology addresses threats as they evolve. In early 2020, their scans found a 16% increase in misleading ads and paid content around coronavirus. This finding would have a huge impact on one of their key customers segments, publishers and ad-tech companies. To help these prospects understand the issue at hand, and in order build out their own marketing pipeline, they decided to hold a webinar covering the ad quality trends around COVID-19.The Media Trust enlisted NetStrategies to craft and execute the marketing strategies around this initiative. Our responsibilities included: 
Developing a Variety of Content to Support Success
The cornerstone of content assets needed to support the event was a compelling landing page allowing prospects to register for the event. Additionally, NetStrategies led creating blog posts, emails and social blurbs for sales teams, emails to existing contacts, and graphics for paid campaigns. 
Executing a Multi-Channel Promotional Strategy
The distribution strategy for this initiative involved reaching an audience of publishers and ad-tech leaders through paid email distribution, in-house email campaigns, and paid ads. Additionally, part of this execution involved aligning various technologies, including the Media Trust website, Salesforce/Pardot, and GoToWebinar.  
Expanding the Marketing Pipeline Post-Event
The event garnered great results, with over 200 high-quality registrants. The final step would be how to introduce these contacts into the existing marketing pipeline. NetStrategies created a series of follow-up emails designed at keeping the problem of policing ad quality top of mind.
Results: 
200 high-value attendees registered
54% attendance rate
94 new enterprise contacts