The Connection Between Local SEO and Your Bottom Line
Remember the last time you wanted to find a local business so you could get a garment altered, repairs made to your car, or an estimate for the cost of an interior remodel. Where was the first place you looked? Most likely you turned to your preferred search engine to do a bit of online research first. Well, your customers are no different, which is why having a strong local search presence plays a vitally important role in generating new customers and conversions.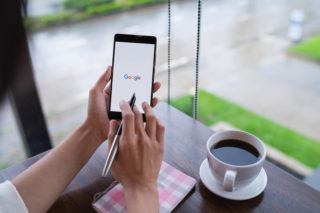 Nearly half of Google searches are for local businesses. People rely on Google and similar search engines to find local businesses. In turn, those search engines are increasingly providing specialized results like maps, business listings, and reviews, when they feel their users are on the hunt for a local business to work with. Without a local search engine optimization (SEO) strategy in place, you're missing out on an invaluable opportunity to drive more local traffic and gain more qualified leads.

Read on for a real-world example of one of our clients who's leading in their local market and seeing significant growth since leveraging local SEO tactics. So let's take a look at how we've built a local SEO plan for our client Case Design/Remodeling of Charlotte and the year-over-year growth they've witnessed since implementation.    
Leveraging local SEO to get in front of potential customers sooner 
Case Design/Remodeling is an award-winning, locally owned, and operated design-build remodeling firm based out of Charlotte, North Carolina. From kitchens and baths to whole home and exterior remodeling, they offer a broad range of home design and remodeling services in Charlotte and the local surrounding area. They also serve a wide and diverse range of clients from young growing families looking to expand their home spaces to empty nesters who are ready for a fresh start now that their children have moved onto their own living situations.   
The company wanted to increase its local digital visibility in the Charlotte market so that potential customers who are researching remodeling projects or looking for a firm to work with will be exposed to the brand before competitors. However, with the slow-moving nature of remodeling sales and the methods prospects typically use to find local remodeling businesses it'd be a challenging endeavor. Many interested homeowners don't usually have in-depth knowledge about the design-remodeling process nor the companies in their local area. The same can be said for those who are ready to launch remodeling projects but are still unaware of the service providers near them. Case in point, these people turn to their preferred search engines to help identify businesses they feel are thought-leaders in design renovation and will meet their needs.  

So, if Case Charlotte were to effectively boost their local online search visibility, they'd need to ensure they outranked local competition. They needed to become one of the first company pages Internet users see in local search results. Ranking first in results would gain them a significant advantage in generating new business. Typically number one ranking pages gain 24.46% of all clicks in local searches.    
A multi-faceted SEO strategy earns top rankings 
Boosting Case Design/Remodeling of Charlotte's local online presence required mapping a multi-faceted local SEO plan that delivered relevant, value-driven content to prospects through various channels at every touchpoint of the buying journey. It also meant their company's website needed to be established as a digitally credible source of information according to Google and other search engines.  

For this plan to pack the most punch, our team needed to use effective strategies and sharp tactics that ensured best local SEO practices and benchmarked key metrics and milestones. These strategies included: 

• Building Digital Credibility Through Link Building – For Case Charlotte to compete and thrive online, it was essential to have high-quality links from other reputable websites pointing back to their site. This indicates to search engines that they are a credible source of information and significantly increased their chances of high rankings.  

• Optimizing Content for Search Visibility – Content was produced and strategically distributed through various channels to capture the local Charlotte audience. Likewise, this content had to be optimized to increase ranking opportunities for local keywords.   

• Maintaining On and Off-site Brand Presence (Website, Google My Business) – To increase Case Charlotte's local organic visibility it was key that brand presence was optimized and accurate across their website, Google My Business account, and other online citations. This helps Internet users discover the company and ensures Google trusts the validity of Case Charlotte's business data. 

• Broadening Brand Visibility Through Paid Campaigns Where Needed – To get directly in front of targeted audiences such as growing families and empty-nesters, paid campaigns on select channels were used to deliver relevant content and further boost brand awareness. This tactic allows us to specify who would see ads based on demographics, geography, and user behavior. 

• Benchmarking, Tracking, and Improving on Key Metrics – A data-driven approach to our local SEO strategy was imperative so that actionable insights identified challenges and opportunities to improve or abandon practices.  
The proof is in the pudding!  
2019 results from our comprehensive local SEO strategy have gained Case Charlotte a competitive edge in their market and an overall increase in their number of qualified leads. Their growth in local visibility and organic traffic highlight how important local discoverability is to attract new customers. Moreover, it reveals that being in front of consumers over other competitors requires a long-term strategy.  By getting in front of prospects at the right moment, investing in local SEO drives the bottom line. 

Here are some of the year-over-year results Case Charlotte has seen since implementing a local SEO strategy: 
31% Increase in Domain Authority
Through consistent link-building Case Charlotte has achieved a substantial increase in Domain Authority. Domain Authority is an indicator of your overall ability to rank in search results. The higher your Domain Authority, the greater the chances you will rank high.
21% Increase in Google My Business Activity
By maintaining Case Charlotte's brand presence through Google My Business, their organic search activity has seen a considerable increase. This indicates more users naturally interacted with the company's Google My Businesses which can lead to higher engagement with content and growth in leads.
14% Increase in Leads From Organic Traffic
This is a crucial milestone in our local SEO strategy. An increase in organic traffic demonstrates that we're delivering the right information to potential customers and prompting them towards initiating conversations.
13% increase in overall leads
Lastly, this figure shows that local SEO contributes to overall company growth and the bottom line. Case Charlotte's lead growth would not have been as high for the year without the contribution from organic and paid traffic.
Local SEO is no longer an option. It's a Must!
Local business owners can no longer ignore investing in local SEO. It's a digital marketing must-have that with the right focus and strategy puts you at the forefront of your local online market. Your potential customers care about local businesses and they're using the internet more and more to find them. Now, more than ever is the time to leverage local SEO strategies to meet their needs.  

Ready to gain a strong local online presence in your market? Let's chat about how we can accomplish this for you.