My grandma grew up in a small town outside of Providence RI.  The winter days were short.  Her patience for boring webinars was shorter.  
I used to watch her cooking up her powerpoint decks on a Gateway 2000 – she left the cow stickers on because they reminded her of spezzatino di manzo – a succulent italian beef stew that has white wine, pancetta, and all the taste of the old country. Ah, Italia.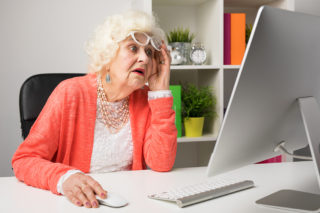 Anywho – I learned a few things watching her mouse clicks and layout tricks.  She was a real beast in the computer nook, which was just off the kitchen on the way to the powder room that had those hand towels you weren't allowed to use. 
She knew how to cook up a great webinar with just a few wholesome, authentic ingredients.
First, you need a real hook to get people interested.  See one of the biggest issues – she always said – was that people don't tee up a real problem, or how the world is changing, or basically any big, compelling reason that people need to stop and pay attention.
"Some people think that whatever they throw in the pot…" – she used to call her decks "the pot"-  "… would be interesting because THEY made it.  That's dumb." 
Once you have a hook, you need some promises – what you are going to deliver during the webinar that will help people deal with the reality of the hook.
"Last" she would say, "Is the way you put it all together and how you finish… it's what my mamma called how you cuocere una torta…  that's 'bake the cake' since your Italian is rusty.
"Nana… what do you mean about the torta?"
"Well… some people think you put these things together, send a few emails, post on the LinkedIn and all of a sudden you have 350 people banging down the door to attend and pay attention.  That's not how you bake the cake, Giovanni."  
I was intrigued. And hungry for more.
"No – you have to do things differently.  There are more ingredients to getting people to taste your webinar goodness… to actually show up and pay attention."
Then she told me the rest.  
You can get the whole recipe at my next webinar.